Hoverboard – Sales Surged by 250%!
In this case study, we will guide you through the journey of a brand-selling hoverboard in the Indian market and how they have successfully augmented its sales by 250% over the span of 1 year, all achieved through the meticulous SEO strategies planned and implemented by our proficient SEO team.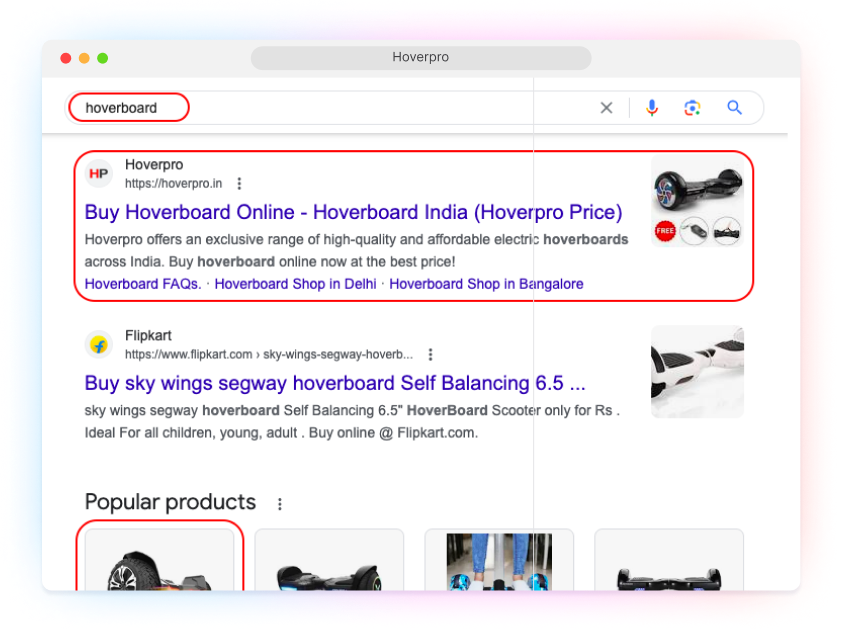 This client has been selling hoverboards and other mobility products like e-bikes in India for more than 5 years. They've been running their business on their own, without taking external investment. The person who started this brand was also taking care of the website and overall marketing.
Challenges before Connecting with Us:
This client approached us through one of our client references. When we talked, he told us about the various challenges they were facing:

Taking Care of the Website: They were facing major technical issues with their website, like slow page speed, broken links, showing server errors, keeping the website theme and plugins up to date, and other common problems.

Making Products Listings Better: The products they were selling through the website needed to be set up properly following search engine algorithms, and they also needed to look better design-wise on the website.

Keywords Not Ranking in Google: Their brand, from its targeted keywords, wasn't coming up on the first page of Google and Bing when people searched for products they sell.

Duplicate Content Issue: The website was full of similar content, especially product descriptions.

Hard to Track Monthly Sales: They needed help quickly figuring out how much sales they got from different marketing sources every month. It was the primary challenge they were seeking to overcome.

Website Audit Missing: Due to heavy operation and sales work, they needed more time to check their website daily to ensure everything worked correctly. There have been no website audits conducted as of now.

Preparation and Execution of SEO strategies:
After getting all the essential information, our SEO team made a plan. We prepared a simple list of things we needed to do and put all our ideas to solve these problems in a standard online document (Google Doc) that we could work on with the client.
Our team put all efforts to prepare and execute a solid SEO strategy such as
➡️ Finding winning and easy-to-rank keywords
➡️ Strong On-page optimization
➡️ High-quality content
➡️ Strong Link Building Plan
➡️ Elimination of all major technical issues

Campaign Success in 1 Year
through Smart Work:
The outcomes of the campaign were gratifying, owing to the substantial effort we invested.

Impressive Website Rankings 📈
Our website now holds a prominent position for more than 2000 keywords on Google's top pages.
Notable Traffic Surge and Sales Boost🚀
Website traffic has surged by 76%, leading to a remarkable increase in sales by 250%.
The website has witnessed a substantial rise in clicks and impressions.
Key Takeaways from this Case Study:
Irrespective of your industry's competitiveness, adhering to fundamental SEO principles can yield remarkable outcomes.
While there's often a quest for cutting-edge SEO techniques, it's crucial to recognize that time-tested and proven strategies consistently yield the most enduring results.
Our client's achievements serve as a testament to this fact.
Short on time to manage this yourself?
Consider hiring our dedicated SEO team to oversee these aspects for you. Feel free to submit your inquiry here.